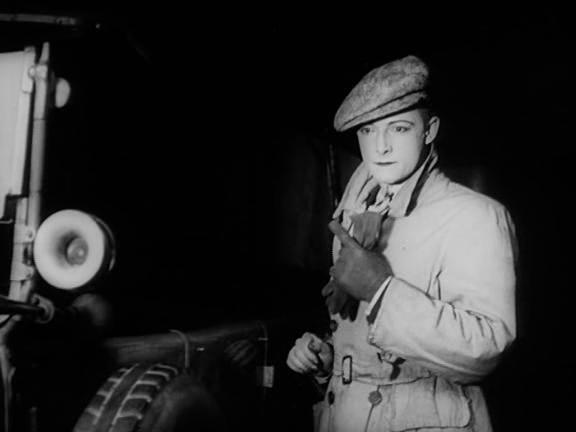 Description:
Any crash course in early film history will no doubt include Jean Epstein's La Glace à Trois Faces. Structured as a psychological triptych, three women reflect on their respective relations with a conceited man – known only as L'homme – who revels in blowing off prior engagements to play with his sports car. The enigma of the film's central character ought to be understood as something of a self-imposed challenge by Epstein. Could the viewer hope to gain a sense of the protagonist through such disparate accounts of his personhood? The question is neatly posed in the film's final image, with the now-deceased dandy standing fully clad in white tie before his three-sided dressing room mirror, leaving us to contemplate this multi-faceted composite image before our own mirror: the screen. Thus, the film reinforces its own radical aesthetic, effectively reiterating Epstein's claim that  "[while] cinema is true; [the] story is false."
Cinematic Importance:
In lieu of a traditional linear narrative, Epstein's fragmented film relies on the use of close-ups, long contemplative takes, and experimental cutting techniques to tell the story, rendering the film's sparse intertitles entirely superfluous. It was Epstein's obsession with cinematic gestalt (the emotional density seemingly bestowed on filmed objects and images) that led him to create this new form of visual storytelling. In the end, it is the full-frame grin of the film's smug anti-hero, the abstracted landscape whizzing by at an ever-increasing speed, and the superimposition of the quiet gesture of a woman crossing herself that relates this classic tale of hubris and death. Moreover, no car crash has ever been so beautifully captured on celluloid, save perhaps the notorious demise of Peter Fonda's character in the final frames of Easy Rider. It was only a year after La Glace à Trois Faces that Epstein went on to complete arguably his greatest work, The Fall of the House of Usher, honing his craft by crashing the same car.
-Todd Cooke
Watch 'La Glace à Trois Faces' at The Silent Beauties Blog: http://silentbeauties.blogspot.com/2012/02/la-glace-trois-faces-1927.html
641 Total Views
3 Views Today